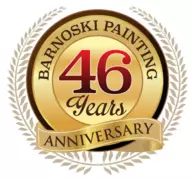 As a small, family-owned business founded in 1976 by our father Wayne, we have built a reputation for quality. We take pride in our work and always look to give the best value to our customers. This is why we are flexible and offer pricing options to our customers to fit most any budget.
We are long-standing members of the Better Business Bureau bbb.org and have had a A+ rating since 1999. And great reviews on Yelp, Google and Nextdoor.
We've been asked to join other rating and referral services but those come at a high marketing cost which gets passed on to the customer, so we don't choose to add that cost to our overhead, which saves you money and produces a better value. We continually seek to make improvements to our process and approach to meet the changing needs of our environment and customers.
Like anyone, we are not perfect. But we really do try to go above and beyond expectations give you the best job at the best price. Dollar for dollar we are the best value in the painting industry.
Our Painting Crew
Our crew is hand selected and trained by the ownership. We teach and lead by example with Respect. The goal is to work Safe & smart to maximize our effort for the best result for each individual job. Our crew only does one job at a time, yours.
Paint
Paint is a great invention, it allows us to change the color of our house and most importantly protect the property.
When correctly applied, paint will waterproof your home and each job will add value to your home. It's estimated that a professional job can add as much as $50,000 to your homes value. But more importantly will protect it from further deterioration. That's why it's important to get it done professionally.
As the owner of the company, I don't 'SELL' paint jobs — I offer information and price options to allow the customers to make their own informed decision on what works best for them. If a salesman is making lots of offers or pressure sales, you're not getting the best job. You are getting sold to meet their quota.
We take a natural approach and hope to leave your home and neighborhood improved and beautiful one job at a time. Our promise to you the customer — we will do the best we can to give you the best version of the job you choose.
As a small company we try to keep our cost low to minimize expenses and maximize your value. This means we have a small staff but work hard to make sure we get everything right. If your looking for a home painting specialist you've come to the right place.
Sincerely,


Erik Barnoski
Proprietor
Barnoski Painting Company, LLC