How Barnoski Painting delivers lasting beauty to your home's interior.
As we've mentioned on our home page, we have been San Francisco, Daly City and the peninsula's interior house painting experts for over 46 years and have created the best procedures to work around the weather and moist conditions.
Our method and products are designed for this region to provide a premium job and the best value.
We work on only one job at a time! With just one crew, we focus on your house from start to finish — only the weather stops us. Your home gets our full attention.
When its time to choose a colors for your exterior or interior, we provide color books and once you've narrowed it down we get you live samples of the paint.
We exclusively use and strongly recommend Benjamin-Moore, Kelly-Moore, Dunn-Edwards and Sherwin-Williams.
We always purchase the premium grade paints from these companies. It may cost a little more, but these brands outlast all other lower quality products that many other companies use.
We always use premium products for all our equipment and sundries.
How often should my home's interior be repainted?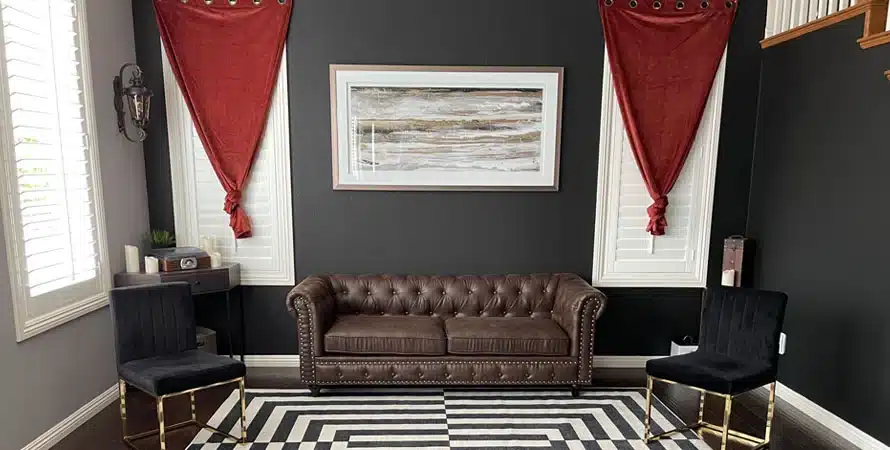 This is a common question we get, and like everything else it depends on a few factors. The better quality paint you use, the less often repainting will be needed. Which again is why we recommend one of the trusted suppliers mentioned above. You can't go wrong with any of them.
Depending on how much wear and tear your home endures, from family activities to pets and traffic, walls and certain rooms could use a refresh every 5 years at minimum. Regional climate conditions may have a say, and in Daly City and the Peninsula the weather can be harsh — but the only things we don't have to worry about here are heat and humidity, more's the pity.
Ceilings are affected from the events of daily life — tracking in dirt from the outside, dust, indirect sunlight, moisture from heat and cooking, and more which can lead to discoloring, especially if they were painted white to begin with. In most cases, it's a good idea to repaint the ceilings whenever the walls need a refresh.
Our Approach to Interior Home Painting Jobs
Cover all floors and belongings with plastic and tape and remove switch plates.
Wash all trim, bathrooms and kitchen areas to be repainted with T.S.P. cleaner/degreaser.
Sand all trim, bathroom and kitchen walls and ceilings and all other walls and ceilings.
Fill all open cracks and holes with premium grade caulking, spackle and sheetrock mud where needed.
Prime all trim, bathroom and kitchen walls and ceilings and all other walls and ceilings.
Lightly sand all primed areas to ensure proper addhesion of top-coat paints.
Then apply 1 full even coat of premium grade paint to all walls and ceilings, usually flat or low-sheen or eggshell.
Then apply 1 full coat to all trim, bathroom and kitchen walls and ceilings, usually gloss or semi-gloss.
One primer and 1 top-coat equals 2 full coats, however some deeper base tints and darker colors may need more then 1 top-coat. In that case 2 to 3 coats may be needed to acheive desired result and finish. Clean-up and vacuum floors, clean windows and leave everything neat and clean. Once we schedule an interior job, we complete it on time, on budget and on schedule.
Schedule Your Free Estimate Now
Every job is detailed for each individual home, but our overall process is a result of proven technique and experience since 1976 which is superior to any other method. You can pay more, you can pay less — but you won't get a better job at any price.
Call us at (650) 834-0028 or complete this quick form to contact us by email now to schedule your free assessment and price quote.